Feb 15, 2018
Observing, combining, thinking differently
Powders, oils and gels with rose scents or lemon aromas – drug store shelves seem to let every wish come true. The manufacturers have creative thinkers and professional innovation processes to thank for the fact that these products capture the spirit of the times and reach the market at the right moment to chime with new trends.
Lifestyle experts will know that the Hygge trend has come and gone. In the last few years, the Danish idea of comfort defined the design of small cafés and propelled casual clothing made from natural fibres to international popularity. Since 2017, a new way of living has been emanating out of Sweden: "Lagom" means as much as "just right" and describes a well-balanced life focused on what is really important. It also applies to fashion, diet and beauty products. In the fall of 2017, Henkel completely relaunched the Swedish cosmetics brand Barnängen and introduced it on various European markets. The cosmetics line reflects this balanced philosophy of not too much, and not too little. The Beauty Care specialists at Henkel were among the first to recognize that Lagom would be adopted beyond Swedish borders this season..
When companies carry trends over to their brands, they don't just hop on board of a moving train. Henkel develops new products, not for the next season, but for the one after that. Coming out with the right concept at the right time requires comprehensive market research, a great deal of planning, inspiration and sometimes a little bit of luck.
Between opportunity and risk
"There are rules when it comes to trends, too," says Jens Bode, Trend Explorer & Innovation Game Changer for Henkel's Laundry & Home Care business unit. Each trend has its countertrend, and they are all associated with both opportunities and risks. "We imagine various scenarios, think them through and assess how they relate to our business," he says. Bode has been accompanying innovation processes within the Group for more than 15 years: "It's about identifying patterns, rules and paradigms – and then consequently breaking them to develop new ideas. For example, why should liquid detergent always be sold in bottles?" Bode half-jokingly describes himself as "a combination of internal consultant, creative and agency". It's his task to discover new things and to keep his colleagues inspired.
For a long time, innovation was mainly technology-driven. Impulses were primarily set by the research and development units. However, Henkel decided early on to put the consumer at the heart of the innovation process. Henkel employees watch people wash their dishes, go shopping with them, observe their daily routines and ask them questions while they dye their hair. "A strong sense of curiosity is crucial. It's all about finding a perfect balance between impulses based on observing consumers and technological developments, as well as trends and future scenarios", explains Bode. In addition to being guided by what is technically possible and focusing on the customer, innovation managers have also turned their attention to what is still to come: the big trends and societal developments. Diverse teams explore the question of what the world will look like five, 10 or 20 years from now. What will people care about? How will they live? What could be the consequences for the company?
Tapping every available source
It is important to Henkel to pick up as many different impulses as possible. "We leave almost no source untapped," goes the mantra. The teams attend trade fairs, for instance, and frequently choose events that are seemingly unrelated to their own industry – but which influence it nonetheless. "If more and more vegan products or convenience foods are coming on the market, if matte furniture is becoming popular, or if Millennials are expressing new and different needs compared to baby boomers, we want to know about it. All of these things are signals and building blocks from which we can develop ideas together with our experts and specialized departments," says Bode.
In the Beauty Care business, employees carefully observe how people dress – both on the international runways and on the streets of Tokyo, Berlin and London. "Fashion trends give us inspiration: not just for new hair dyeing and styling products, but also for packaging design," says Ines Hambsch, Marketing Manager International at Henkel Beauty Care. Among other things, she and her colleagues work closely with trend agencies. They also put the customer's lifestyle and interests at the heart of the innovation process. This requires working with rigorously selected target groups: for example, in so-called "Meet your target group" workshops, where employees put themselves in the customer's shoes using their five senses. Whether the customer is a man, a Millennial or a Silver Ager, employees "then slip into character to experience the products in the same way," explains Hambsch. "In addition to this, digital tools offer multiple ways for us to improve our understanding of our customers and their behavior. Which topics are being discussed online? What trends are gripping the Web? Of course, we are interested in finding out."
Getting involved, sharing, providing inspiration
At Henkel, everyone should feel responsible for innovation. "Every employee is called on to keep their eyes and ears open and to share their ideas. That's part of our culture," says Hambsch. Many employees are responding to this and getting involved via a digital innovation database. They can submit their ideas and impressions worldwide. Experts then study the contributions, develop the most promising ones further, and begin testing them.
It is important to Bode that all colleagues, if possible, develop a sensitivity and a flair for trends and train their "curiosity gene". What characterizes a particular trend? What are its drivers? How are other sectors reacting to it? Employees learn different methods of creativity, work with ideas in a structured but also playful way, create ideas, mutually inspire each other, draft concepts and build prototypes. "To put it provocatively, innovation is really very simple," says Bode. "It's all out there – you just have to see it, pick it up, and create new combinations and associations out of it."
When an idea is deemed to have the potential for market success, a structured process begins. "The idea becomes a concept that we develop further in an interdisciplinary team. This also involves product formulations, packaging designs and calculations," Hambsch explains. "And, of course, a series of tests." The shelf test, for example, is conducted to find out whether the customer perceives a product or completely overlooks it. Consumers also try product samples out at home and then rate their effects and performance. "The finished business case goes through an internal approval process that ends with the implementation and the market launch preparation," says Hambsch. Even once a new product has hit the shelves, the innovation experts don't let it out of their sight: They track sales and measure its success. If necessary, individual features can then be reworked.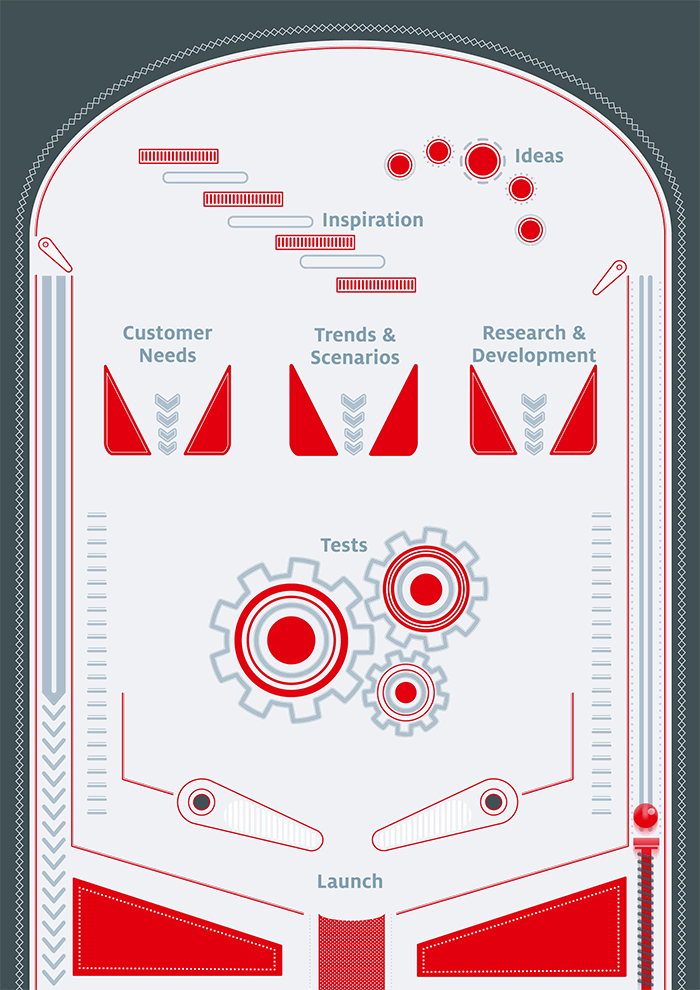 By the time the customer sees a new product on the shelf, a couple of months – or even years – may have gone by. For example, a new production plant may have to be built for a special product format. Additions to or expansions of existing lines are usually completed faster. Some trends can even be implemented by the teams within a few months' time: This summer, Henkel brought a flamingo shower gel on the market under the Fa brand. The team identified the flamingo as a trend and reacted fast. This is not disruptive as such, but more a matter of marketing and scent. "It does, however, illustrate how we observe trends and implement them quickly," Hambsch reports.
Looking across national borders is also important. "The topic of innovation should be approached with a global perspective, because trends and customer needs differ regionally," explains the manager. The creative team regularly examines products in different markets to identify which trends can be derived from them for other regions, and where they could become relevant. The employees in Research and Development are also in frequent contact with their colleagues around the globe. Finally, Henkel runs its own innovation and development centers all over the world. These serve as turntables for local trends and customers' needs in the region.
In spite of the internal platforms, a well-structured innovation process, intensive scouting, and creative talents brimming with ideas, there are a few questions to which Ines Hambsch and Jens Bode don't have the answers yet: "The fascinating thing about our work is that consumers' needs and wishes are constantly changing. This motivates us to start thinking today about what will be important tomorrow," they agree.