Social Partnerships
As part of our corporate engagement, we enter into social partnerships in the communities where Henkel operates, in an effort to support social initiatives and public institutions.
Education is a basic prerequisite for both personal individual development and for society. It is for this reason that education initiatives are among the priorities of our corporate engagement. In cooperation with the Fritz Henkel Stiftung we are concerned with realizing ideas and programs that provide answers to societal problems and challenges. A particular focus of our work are young people - children, youths and young adults. In addition, we support sports clubs, hospitals, kindergartens, schools and universities, charity organizations, and cultural events. We do not support political parties.
Henkel's sustainability ambassadors
Our Sustainability Ambassador program was launched in 2012 to encourage our employees to engage even more strongly with the topic of sustainability. Since then, Henkel has trained more than 25,000 ambassadors in 79 countries. To anchor our understanding of sustainability even more firmly within the company, we want to train all of our employees and encourage them to become sustainability ambassadors.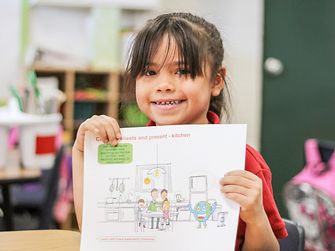 Learning by playing – Elementary school children are taught how to handle the resources of our planet responsibly. Sariah Ramos, who attends Frank Elementary School in Guadalupe, Arizona, USA, is proud of what she has learned.
Promoting equal opportunity
Henkel and the "Fritz Henkel Stiftung" are working with the "Teach First Deutschland" educational initiative to increase educational equality. One of the goals is to improve the education and job opportunities for young people regardless of their social background. We expanded our partnership with the "Teach First Deutschland" educational initiative in 2013. "Teach First Deutschland" is one of the national partner organizations of the global "Teach For All" network.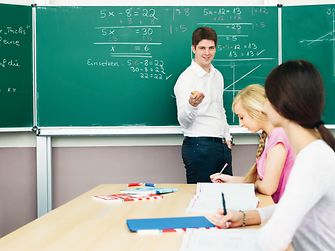 "Teach First" fellow Sebastian Kesper runs a mathematics workshop for students at the Freiherr-vom-Stein School in Düsseldorf.