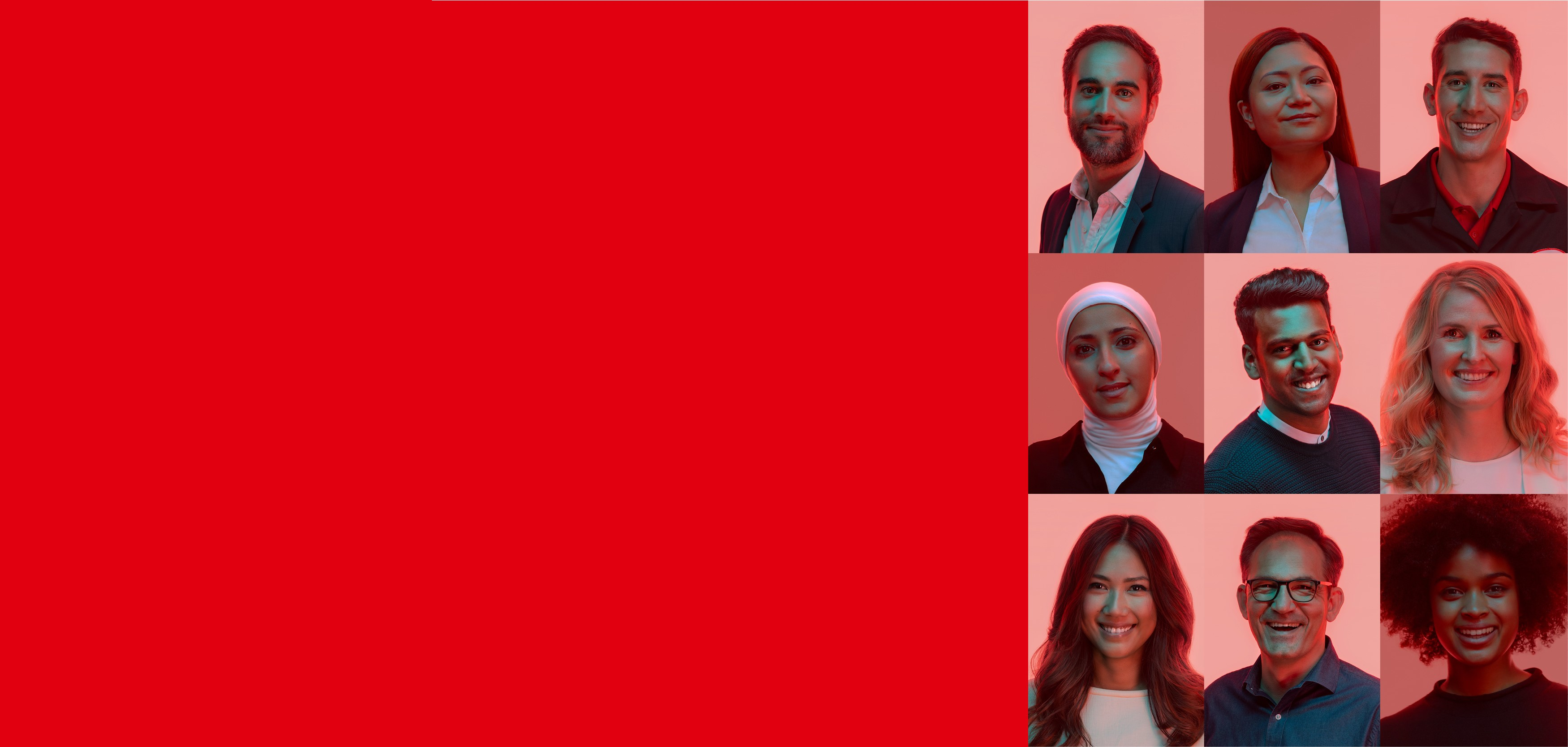 #1 You can make a difference
Henkel as a company builds upon a huge entrepreneurial heritage. To ensure constant improvement, our employees really get the chance to change things and move them forward. Our employees get to leave their comfort zone, challenge the status quo and act like real entrepreneurs.
HOW DO WE HELP ESTABLISH A PROFOUND DIGITAL CULTURE?
HOW DO WE DRIVE TRANSFORMATION IN A LARGER DIGITAL ECOSYSTEM?
HOW DO WE BRING OUR PRODUCTS & TECHNOLOGIES TO THE NEXT LEVEL?
We think it's important to build change culture by making digital knowledge approachable for all our teams. Our worldwide Digital Upskilling initiative offers tailor-made trainings for all about 53,000 Henkel employees, clustered by different job groups. Transformation won't happen overnight – it's a process that takes time. For us, intuitive and personalized training formats create engagement and thus ensure constant digital learning. Through Digital Upskilling, Henkel sets its standard of digital knowledge throughout the company. We cannot transform unless we integrate every manager, every team member and every intern who works with us.
Today's world is highly connected and calls for collaboration like never before. Henkel X Ventures is our open innovation platform that merges us into a vast digital network including startups, other companies, business angels or scientific institutions. Here, we celebrate our entrepreneurial spirit by experiencing new technologies, experiment with new business models, and establish our own digital ecosystem. We love to exchange ideas and are proud to be a key driver of digitalization in all our industries.
We drive digital transformation from the inside as well as from the outside. Not less important for us: the development of our core asset, the Henkel products and technologies. An ever-connected world changes consumers' needs as well as their purchase decisions. We go from providing a single product to offering well-integrated services, easy to use via digital devices.

At Henkel we unite about 53,000 employees from across the world. We know that these people from different backgrounds, experiences, skills, knowledge and creativity are the foundation for our competitive advantage. Diversity and Inclusion are topics which we not only promote through statements but embrace and live through real actions. Have a look at our "Diversity Challenge" as one example of a comprehensive agenda redefining what an inclusive working environment and diversity really means to us.
Diversity & Inclusion in figures
#3 You can craft your career
We love to see our employees grow, professionally and personally. This is why we offer many opportunities to learn, receive guidance and gain diverse and international experience. Henkel is for those who stay curious - do you?
Onboarding Program
Our Global Onboarding Program "BE PART" gives you a jump start at Henkel. With digital content and offline events, you will receive all the information you need for your exciting first 6 months.
Career Path
We want you to develop your individual skillset to the fullest. Therefore, you can be your own career crafter at Henkel.
Digital Upskilling
This initiative helps us to drive our digital transformation process within Henkel by including every one of our about 53,000 employees worldwide. Take part in our intuitive and tailor-made trainings to improve your digital skills. 
Henkel Learning Platform
Do you want to further upskill yourself and improve your knowledge and soft skills? We got you covered with our more than 9,000 online courses on different topics which you can access on-demand to broaden your professional horizon.

#4: We offer more than jobs
We not only take responsibility for our employees, our customers and partners, but also for society and our environment. To us, it's important to create a culture that enables everyone to shape the future with us. Check out our numerous offers promoting work-life flexibility and our efforts for a better tomorrow.