Oct 8, 2020
#AViewFrom Henkel North America: Bowling Green, KY
Did you know that Henkel North America employs approximately 9,000 employees in over 70 sites across the U.S., Canada and Puerto Rico? Collectively, these sites manage three business units: Adhesives Technologies, Beauty Care and Laundry & Home Care.
Our #AViewFrom series will feature select locations, sharing information and facts about our sites across Henkel North America.
At Henkel's Bowling Green laundry manufacturing facility, approximately 900 employees produce essential products, including Persil®, Snuggle® and all® brand products in a 24/7, 365-day operation serving customers across North America.
Established in 1994 as Huish Detergents, the plant became Sun Products in 2008 and part of Henkel through the acquisition of Sun Products in 2016. In 2019, Henkel invested more than $130 million in building infrastructure and equipment to enhance laundry product production.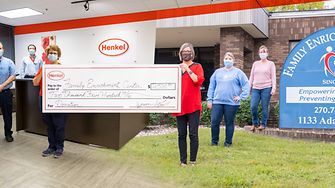 To aid in COVID-19 relief efforts, Bowling Green employees organized donations to many local charities, including the Family Enrichment Center.
"The importance of this plant cannot be overstated and working here with this talented group of people is a tremendous honor," says Kurt Naxera, Plant Manager, Bowling Green. I am immensely proud to be a part of the great team here."
Efforts from our employees
Bowling Green employees like Ron Collier, pictured here, have been essential in Henkel's ability to continue providing in-demand laundry products to customers during the COVID-19 pandemic.
To aid in COVID-19 relief efforts, Bowling Green employees have organized cash donations to Habitat for Humanity, Family Enrichment Center, Barren River Area Child Advocacy Center, and CASA, an organization that aids abused and neglected children in the foster care system. They have also organized essential product donations to local charities.