What we offer
We are one global team at Henkel and internationality is lived on a daily basis. At the Henkel headquarters alone, colleagues from more than 70 nationalities contribute every day to our common purpose: creating sustainable value.
We offer more than just jobs: we offer an inspiring working environment in which we shape business innovations and brands.
A driven team and dynamic career opportunities help you to develop both personally and professionally. Our Triple Two job rotation gives you the unique opportunity to boost your international experience, expand your skill set, and develop a network of expert contacts.
Our benefits at a glance
Training and Leadership Development
Talent and Performance Management
International Opportunities
Compensation
Social benefits and services
Development on every level
At Henkel we do not only continuously optimize the quality of our products, but we also seek to improve every day as a global team. 
In a competitive and fast-paced environment, it is critical to think in terms of "capabilities" – those we have and those we need to advance. Therefore, we are dedicated to developing and constantly improving our global training portfolio, create exciting learning opportunities and provide tools that meet latest market requirements as well as our employee's needs.
Our ambition is to future-proof our employees by helping them build the vital skills they need and enable them to unleash their full potential through learning!
Henkel Learning Hub
What we offer goes far beyond the classical classroom training. The platform to facilitate all learning is our Henkel Learning Hub. Here employees can access all trainings available at Henkel. 5,500+ classroom and digital learning resources, including e-learnings, webinars, and Virtual Instructor-Led Trainings.  Learning whenever and wherever our employees want!
Learning: global and scalable
At Henkel, we have a very extensive training and development program portfolio. In these programs knowledge and skills are transferred that are relevant for everyone, irrespective of experience level, professional background, or location. Examples from our portfolio: Personal Skills Trainings, Business Acumen Courses, Strategic Development Series and Digital Upskilling. 
We are partnering with renowned international Business Schools and training providers to ensure high-end learning experiences. 
In addition to that, we will train you to be able to meet the specific challenges of our different business areas and roles. Renowned academics and senior managers at Henkel will share their experience at tailor-made training programs, e.g. in marketing or finance, which are as hands-on as possible. This offers a maximum of practical relevance. At the same time, you will automatically build up your global network with international colleagues.
Leadership: grow towards future leadership skills
Today's leaders are confronted with an environment of increasing ambiguity, uncertainty, volatility, and at times, market disruption. At Henkel, we support our leaders to successfully navigate through this new norm. It is our ambition to develop strong leaders, who energize and empower their teams to quickly adapt to changes, who act with entrepreneurial spirit, proactively take decisions and demonstrate outstanding performance. Our diversified Leadership program portfolio offers a wide range of development opportunities on all levels - from first time leaders to the inspiring change driver of the organization. To ensure high-end learning experiences we are partnering with renowned international Business Schools and training providers.
At Henkel, Talent & Performance Management is dedicated to drive our employees' development.
At Henkel you are asked to shape your career by contributing to the company strategy, defining new professional goals and projects, expanding your skills, and receiving constant feedback to develop.  
With our Talent and Performance Management approach we support professionals to: 
Get feedback on their potential to develop 
Plan career opportunities for the short and long term
Define new ambitions linked to their position and individual impact 
Receive regular feedback
How?
Our Talent Development 
Supports a holistic potential evaluation of each employee during the Annual People Review. Focusing on personal and career development, our approach values the individual and allows to identify concrete career steps for our employees. 
We want the employee to have a clear guidance on their development actions supporting their continuous growth.
Our Performance Management
Focuses on the individual contribution of the individual role related ambition to Henkel's strategic objectives and short term rewards achievements. Every individual employee's contribution plays an important role for the success of our organization. 
Job rotations abroad
At Henkel, business is always international – even if you are working at our headquarters in Düsseldorf, where people from more than 70 nations create a diverse, team-orientated working environment that is united in its pursuit of excellence. 80 percent of our about 53,000 employees work outside of Germany.
Henkel helps you to expand your horizons, because people with international experience make our global team successful.
That's why we follow our Triple Two philosophy: Throughout their career, high-performing employees work in at least two job roles in two different countries and in two business units.
Triple Two. International, diverse, and challenging.
Our Triple Two philosophy is a key factor of our talent management. The power of Triple Two enables international and cross-unit career paths as well as other unique opportunities to our employees:
You will develop a valuable network inside the company.
You will exchange experiences and ideas with creative minds all over the world.
You will work in an international environment.
You will gain insights into decision-making processes at the headquarters and in the countries.
You will be prepared for the challenges of senior management, where a willingness to work abroad is extremely important.
With our Triple Two philosophy, we strengthen our intercultural way of work while we enhance your professional and personal development at the same time. Before each foreign assignment, we always involve the families of our employees in the process by helping them to prepare for their new life abroad.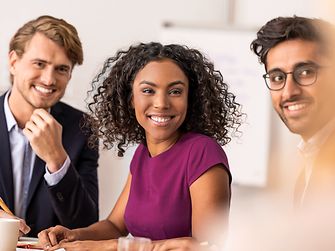 Diversity & Inclusion
For us diversity is a valuable contribution to Henkel's competitive advantage. 
Your performance counts. And gets rewarded.
Do you compete to perform at your best? If the answer to this question is yes, you will soon discover how your performance gets rewarded at Henkel. Indeed, it is an important part of our company culture that compensation is performance-related and provides incentives for employees. We love setting ambitious targets and we also know how to reward strong performers accordingly. Furthermore, you will get a high social protection and attractive social benefits.
"Target Dialog" program and system of incentives
Managers and employees agree on objective and quantifiable individual goals. At the same time, the collective performance of the team decides whether Henkel reaches its goals for the whole corporation. The bonus awarded depends on the targets being achieved at individual, team and company level.
Employee share program
Henkel allows its employees to share directly in the company's success. For every three shares that you buy, we are giving you an extra share. The plan is so attractive that over 11,000 Henkel people in 54 countries have already signed up.
Occupational pension
Add-ons of social services
If you are working at a Henkel site, where you do not get social services, we complement this with our own initiatives. In the U.S., for instance, nearly all employees get private health insurance.
Preventative healthcare – healthy employees
Henkel promotes the health and performance of its employees with targeted programs and medical prevention. Each year, thousands of employees profit from our extensive offer of preventative measures – social benefits which make your job at Henkel safer, healthier, better and even more attractive.
For example our on-site doctors provide a service that goes far beyond emergency treatment and ambulances. Our company's system of health management is rooted in Henkel's general benefits strategy and promotes knowledge-sharing, both between German sites and international sites.
Global in scale – local in effectiveness
Individual Henkel sites customize their health programs to suit their countries and their culture.
Germany: preventative care examinations, vaccinations, back-training exercises; on-site medical staff receive training to become ergonomic coaches
Barcs, Körösladány, Szolnok, Vác sites in Hungary: health insurance for all employees
Asia: at sites in China, India, Indonesia, Korea and Thailand, there are two-day programs covering the topics of health risks, keeping healthy and healthcare provision
Other attractive benefits at various sites range from kindergarten facilities for employees' children to sports activities and on-site libraries.